For all sports cars and their drivers on an exclusively rented track. This is a new date for the date of 14.04.2021 changed due to Covid restrictions!
Basic information
Test event at the otherwise very inaccessible track of Automotodrom Brno with an exclusive rent for Šenkýř Motorsport customers.

Past events on Sports car test day Automotodrom Brno 5.5.2021
Pricing
Pricing - entry fee:
 
Entry fee driver with one car 

695€ netto
Guest
50€ netto
 
 
Pricing - rental of our race car:
 
BMW M4 GT4 (485PS/1400kg)
1x 30min /690€ netto

- two seats, only for experienced drivers and with 1: 1 coaching
- price incl. track rental, car maintance, tires, fuel and 1:1 coaching.

 
 BMW M2 Competition Trackday EVO
  1x 30min /590€ netto
- two seats, only for experienced drivers and with 1: 1 coaching
- price incl. track rental, car maintance, tires, fuel and 1:1 coaching.
 
 
 
 
 
Pricing - taxi ride with BMW M4 GT4 or M2 Competition Trackday Evo:
 
3 laps with intercom communication and driver's interpretation
160€ netto
 
 
Pricing - 1:1 coaching with the own car of driver:
 
Set 1x30min.
100€ netto
Box:
 
It'is possible to rent an own box 
175€ bez DPH
More about racing cars for rent
Program
Time schedule of the day:
08.00 - attendance
08.30 - compulsory drivers breefing
09.00 - 13.00 - open pitlane or group A/B driving
13.00 - 14.00 Car to car shooting (starting at 13.00 from pitlane)
13.00 - 14.00 - lunch break
14.00 - 18.00 - open pitlane or group A/B driving

The open pitlane format can be changed to A / B groups due to clear track.
Where to meet, organization of the day, attendance: 

The Šenkýř Motorsport Trackday will be organized from the boxes in the Automotodrom Brno paddock (the number of boxes will be specified). 
You will be released through the main gate after entering the name Šenkýř Motorsport. All drivers must be over 18 years of age and present a driving license in person. The obligatory drivers breefing is in the area in front of the box before the start of the event.
Our race cars for rent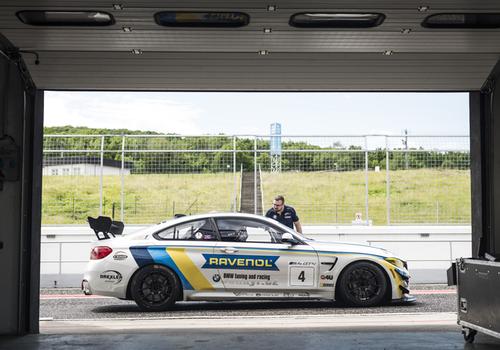 Factory developed and built racing car for the GT4 category, which you can try on all our trackday evetns. Always with a coach onboard and 1: 1 coaching.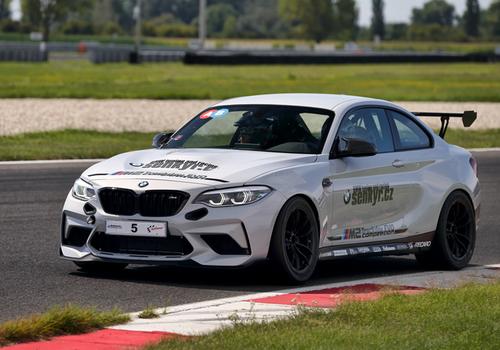 BMW M2 Competition Trackday Evo - a car for maximum trackday performance and uncompromising use at European circuit events.
Coaching
Our instructors have many years of experience in racing and driving on the circuit in Brno. They have the necessary knowledge and skills to help you improve your riding skills and self-confidence in a short time.
It's your first trackday, book an instructor

 you are in Brno for the first time, book an instructor

It's your first trackday with an FWD, AWD or RWD car, book an instructor

the track is wet or dampy and this is the first time for you, book an instructor

you have any unclear places on the track or in your ride, you need to improve even one of the skills (brakes, exit, etc.), book an instructor.

The price of the coaching unit is 100 € without VAT / 30 min. 
You should rather book an instructor with us in advance so that you have a certain coaching lesson!
Additional information
Helmets and clothing:
Everyone needs their own helmet - a helmet is mandatory! 
We provide helmets only to drivers who have rented our race cars (due to the built-in communication). 

There will be a limited number of opened helmets Uvex in carbon design or white for sale. Price 199 € without VAT. 

It is necessary to have long pants and long sleeves, we also recommend gloves. We have a limited number of Sparco racing gloves for sale at every event.
Lunch and catering:
Lunch and all-day small catering is included in the price of the event. There will be hot and cold drinks, packaged pastries, baguettes, etc. available. Lunch will be opened either in the garden of the restaurant in the paddock or in the box, depending on the weather and possible Covid restrictions. 


Refueling:
It will be possible at the gas station in the paddock with 100oct. petrol, payment only by card.
Race Navigators:
We have a great partnership with Race Navigator, a company that produces portable telemetry with video. RN is the best tool for analyzing your driving and then comparing it to the instructor's laps. A limited number of RN One and RN Lite telemetry will be available for sale.
Car maintanance:
The Šenkýř Motorsport mechanics will be available throughout the day to help you with measuring pressures and, in the event of an need, servicing your car. We always have a basic stock of tires and brake pads for the BMW M, Nissan GTR and Porsche GT3 and GT4. 

In the team's service area 5 km from the track, we can solve a more serious repair if necessary.
Pressure gauges:
A limited number of professional digital exhaust pressure gauges are available for sale on site.
Photo:
As usual, our main photographer of sports cars Dan Martínek will be with us, taking pictures of the entire trackday. In the lunch break we are again planning a photo shoot of "Car To Car Shooting". Many of you have tried this shooting at previous events and you have beautiful pictures in mind. The capacity of the noon photo shoot ingnwill be limited to 10 cars.
Accommodations:
We recommend Hotel Grid directly on the circuit.
Safety rules for Automotodrom Brno
Mandatory equipment:
Towing eyes: It is mandatory to have a towing eye with you - preferably already installed on the car, so that you do not delay others in the case of towing.

Helmet is mandatory.

It is necessary to have long pants and long sleeves, the circuit is sometimes checked by gloves.
Before leaving the track:
adjust the rearview mirrors, fasten your seat belts

helmet is on and windows closed - 5cm opening is ok

start numbers covering the license plate on the front and back are placed (you will get them during attendance)

make sure you have enough fuel
In your first outing:
increase the speed only gradually to calmly inspect the track and get familiar with the conditions

make sure where the marshals' posts are, the positions of the flags or lights, the pitlane entrance and exit

inspect the track as a whole for braking reference points, curbs, etc.

use the mirrors and always keep track of upcoming faster cars

do not drive around curbs and exit safety zones from the start of the ride

book an instructor in case of any doubt
Exit from the pitlane:
stay inside the corridor of the two white lines on the right

do not cross the white line and prefer cars riding a fast lap on the track

keep an eye on the mirrors and do not drive into the ideal track until it is safe to do so
Arrival at the pitlane:
cool down the car by driving at least half a lap more slowly

stay on the right side outside the ideal track already in the last right turn before entering the pitlane

put the direction indicator to the right and reduce the speed
Overtaking rules:
overtaking only from the left, on straights and in corners

The faster car overtakes and follows the following instructions: 


- overtaking must be patient, do not take risks and drive defensively (constantly monitor and evaluate the driving of the car in front of you.

Slower car that is overtaken: 
- makes space for overtaking by moving to the right, it can also help with a turn signal to the right
- when necessary, it removes lightly, but does not brake sharply and does not make unexpected changes in pace 
- constantly watches the mirrors
Flags:
They are the only way we can communicate with you while you are driving on the circuit. Learn them very thoroughly!
yellow - danger on the track, I slow down and I'm ready to stop. No overtaking!!!

blue - a faster car is approaching and will probably overtake you soon

yellow with red stripes - change of adhesion conditions (rain, fluid from amother car on track etc.)

red - the session is stopped, I slow down and go to the pits

 No overtaking!!!

green - end of danger, overtaking allowed again

black - dangerous driving or mechanical problem. Immediately go to the pitlane and find the organizer
FAQ's for Automotodrom Brno
▼
Where is the course happening?
Automotodrom Brno, Automotodrom Brno, Masarykův okruh 201, Ostrovačice, 664 81, Česká republika
▼
I booked the event using the booking form. What happens now?
Please transfer the total amount stated at the time of booking to our account 4211028159/6800.
Please enter your name and date of the event in the subject. Your place is certainly reserved and confirmed only after receiving the payment. You will receive an invoice and other necessary information from us well in advance of the event.
▼
What happens if I can't attend an event unexpectedly?
If for any reason you are unable to attend the event, we will proceed in accordance with our cancellation policy. If you cancel 30 days before the date of the event, we will refund 100% of the amount, 30-15 days before the event, we will refund 50% of the amount, 14-7 days before the event, 25% of the amount. If you cancel the event 4-1 the day before the event and if you do not come to the event at all, 100% of the amount will be forfeited.
▼
What happens if the event is canceled due to Covid restrictions?
If the event is not held due to Covid restrictions, the event will be moved to another date, or the entry fee will be moved to another event of your choice, or returned.
▼
Must I have experience with driving on a circuit Automotodrom Brno?
You don't have to. We will be happy to welcome you as a newcomer and help you with the first steps when driving around the circuit. At each of our trackday events there is a contingent of our coaches, ready to take care of you.
▼
How to prepare a car for the first trackday event?
Not specifically, but it is necessary to keep the car clean and in good technical condition. We recommend checking all fluids, brake discs, pads and tires. Don't forget the towing eye at home! We recommend coming with a fully refueled car.
The choice of tires is an essential and limiting factor. For the first trackday in life or occasional driving, original road tires are enough.
For an more sporty driving, of course, semislick or slick tires are more suitable, which can transmit higher lateral forces and the car "holds" better.
Within the sporty driving on the track, your tires will get warm up and your pressure will increase. This reduces the area of ​​the tire that is in contact with the road and the car loses grip. The tire also wears out faster. To prevent this, we must constantly monitor and adjust the pressure. Follow the recommended values ​​on the label of your car. For standard tires we must not exceed the value specified for the loaded vehicle, for semislick tires the key values ​​are for a less loaded vehicle. Our mechanics will help with pressure measurement, or you can measure the pressure with your own pressure gauge. We also have digital sports pressure gauges for sale at the event. Don't forget to refill the pressure after the event. By street driving, the tire pressure drops again and you could go home on underinflated tires.
▼
Will my standart street car last a day on the track?
yes, if it is in good technical condition. We also recommend letting the car exhale after a few laps / minutes on the track Automotodrom Brno and cool it down by slowly driving into the pits. In case of any doubts, we always have service point on site and we will check your car.
▼
Does my car remain insured during the event?
Our trackday events are sports trainings focused on driver safety. They are not organized in order to achieve the highest speed or the best time. With many insurance companies, your insurance and comprehensive coverage are maintained in full. But  please ask your insurence company.
▼
If my insurance does not apply on track, can I insure my car separately?
Yes, we can arrange special insurance for the race track on individual request.
▼
Can I take an guest, another driver or children on the track, who can also go on the track?
Yes, we have booking options for other drivers or guests, see. paragraph "Complete prices". Children from the age of 16 are allowed to enter the track as co-drivers if the parent, as the driver of the car, assumes responsibility for this. You will receive the necessary documents at the accreditation.
▼
Does my vehicle need to be registered and have a license plate in order to run on the track?
It doesn't have to. We organize our trackday events for vehicles with and without license plates. Exceptions are events at the Nürburgring, where only cars with license plates and tires approved for road use are permitted.
▼
Do I need a helmet and racing overall to participate in the event?
Helmet is mandatory at our events, overalls recommended. You can rent helmets from us in limited quantities (fee 15 € / day), or even buy them (approx. 199 € without VAT).
▼
Can I book the individual 1: 1 coaching during the trackday?
Basically yes. However, most coaching units are always booked in advance. To be sure, we recommend that you book the required coaching capacity with the coach in advance.
▼
Can I rent your sports car during the trackday?
Yes. But as with coaching, it is better to book a car in advance to be sure to get it.
▼
Are there noise limits on some tracks?
Yes, some of the tracks have limited noise quotas. E.g. Nürburgring 130dB. Restrictions for particularly noisy cars also apply to Most and Spa Francorchamps. So far, it has never happened during our events that we have to park a car due to excessive noise.
▼
OPEN PITLANE and Groups A / B - what's the difference?
Open Pitlane mode is all-day free driving without dividing into groups.
Driving in groups A and B (always a maximum of two groups) is required on circuits with low capacity.
The divisding into groups takes place according to the car and the level of experience. Thanks to this, the groups are homogeneous and you will enjoy your ride more. When group riding, each group usually has 8x 30 min. driving, which is more than enough for a serial or modified car and for your concentration.
▼
Can I give someone a gift for the participation in a trackday event or a taxi ride?
Yes, we will prepare a gift voucher with the selected service for you. You can also donate personal coaching, a taxi ride with our instructor or your own gift ride in one of our racing or sports cars.
▼
I don't have supersport, but I would like to participate. What cars drive to your events?
t is not a condition to have a super sports car. What is important is the desire to participate and have your car in good technical condition. A whole range of cars take part in our events on Automotodrom Brno - for example Porsche GT3, Ferrari, Lamborghini, McLaren, AMG Mercedes GTR, AMG A35, AMG A45, BMW M2, M3, M4, Nissan GTR, Ford Mustang, Ford Focs, Toyota Supra, Honda Civic, BMW 340i, Abarth, Lotus Exige, Tesla, BMW X4 M, Dodge, Corvette atd.
▼
Can I also drive my own race car?
Yes you can, if you respect the trackday rules of our events.
▼
I have a new car and I'm afraid of a lot of traffic on the track. Is there a risk of a collision, for example?
We organize our events under clear safety rules. If someone doesn't follow them, we'll take them off the track and explain once again that it's a trackday and not a race.
At our events, we pay attention to the limited number of cars on the track so that each participant has enough space for their ride. Thanks to the amount of time devoted to driving, you can also determine when you will enter the track when the track is empty.
Products, that could come in handy